What is DisplayPort?

If you've purchased a new monitor or desktop PC, you may be wondering, "what is DisplayPort?" The answer is simple: DisplayPort is both a physical connector type and a set of standards for linking monitors to computers and video sources. While rival connector types like HDMI are more common on game consoles and TVs, DisplayPort has made its mark as the definitive high definition connector in the computer industry.
DisplayPort ports and connectors
Included in the DisplayPort standard is a set of universal, standardized connectors for exchanging video and audio data. There are two standard connector types - the full-size DisplayPort port, and the smaller Mini DisplayPort port. You'll find the full-size DisplayPort port on desktop PCs, computer graphics cards, and monitors. It is a 20-pin connector with a latching lock design for staying in place. The Mini DisplayPort port is a common feature on laptops and small form factor PCs. It is functionally identical to a full-size port, but is much smaller - making it the de facto DisplayPort connector for laptops.
| | |
| --- | --- |
| DisplayPort | mini DisplayPort |
DisplayPort through the years
DisplayPort is both a physical cable connector and a series of standards for transferring video and audio data. The connector itself has not changed since the debut of DisplayPort 1.0 in 2006, but the standard sure has. DisplayPort standards are divided into transmission modes, which determine how much bandwidth a DisplayPort device can transmit. Take a look at how different standards have built upon and improved successive versions of the DisplayPort protocol.
Bandwidth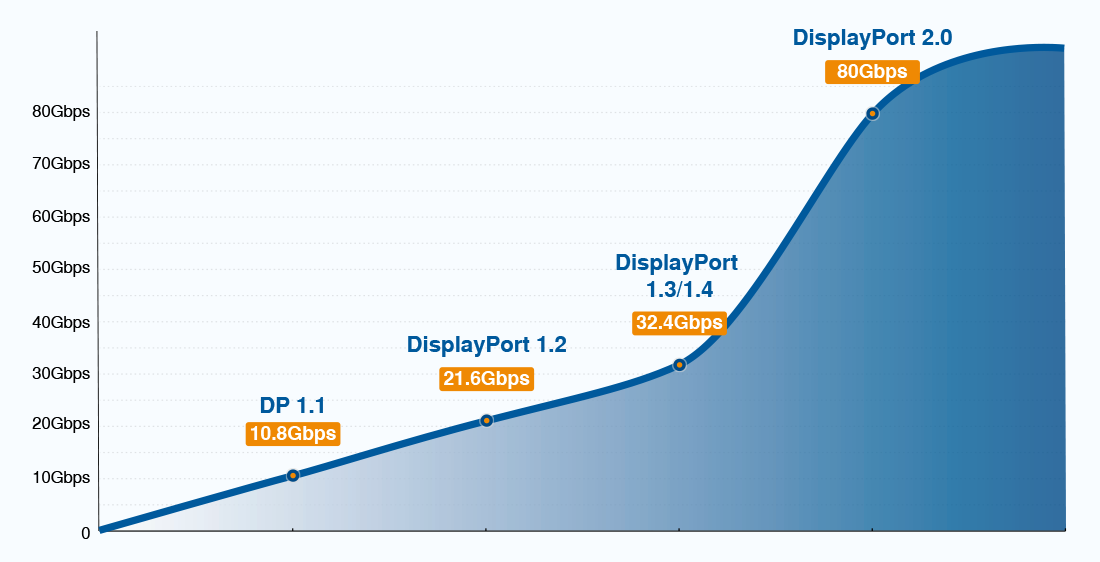 Resolutions supported
As new DisplayPort versions and transmission modes upped bandwidth, the capabilities of the DisplayPort connector have also increased. More bandwidth means higher resolutions and refresh rates. DisplayPort 1.0 initially used the Reduced Bit Rate transmission mode, which only supports 1080p. By contrast, DisplayPort 2.0 with Ultra High Bit Rate 20 will support an 8K display at 60Hz with no compression. Take a look at the table to see how resolution support has improved over time.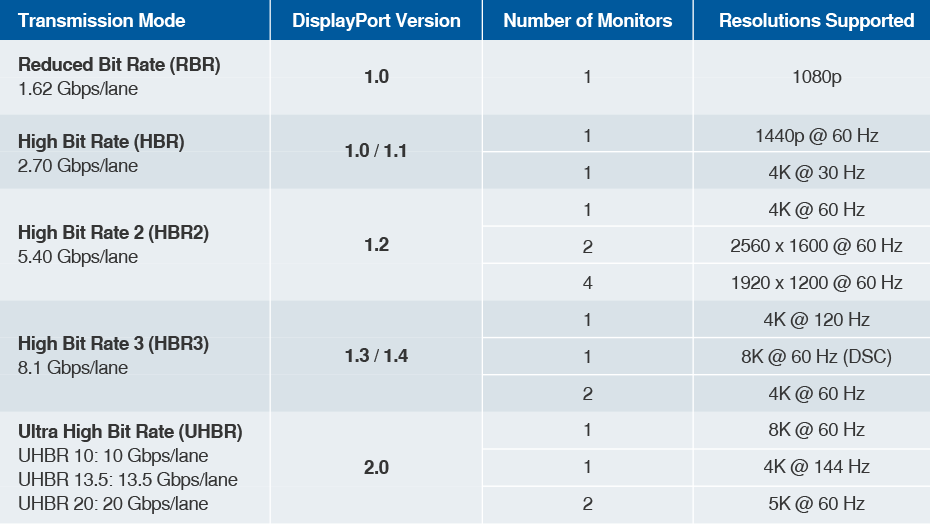 DisplayPort features
You might be wondering what would win a DisplayPort vs. HDMI debate. While DisplayPort 2.0 technically supports higher resolutions, in practice the debate seems pretty equal all things considered. But where DisplayPort really shines is in its advanced features - some of which are not offered by any competing display standard.
Multi-Stream Transport

Multi-Stream Transport (MST) allows one cable to carry multiple display streams. This makes daisy changing multiple monitors and DisplayPort hubs possible. Learn More

Display Stream Compression (DSC)

This visually lossless compression system enables ultra high resolution video at a fraction of the bandwidth cost, meaning DisplayPort can support 8K and higher video resolutions. Learn More
Dynamic HDR - High Dynamic Range

Dynamic HDR enables lifelike colors in video games and films. It significantly increases the color and brightness available for stunning, lifelike visuals. Learn More

DisplayPort Alt Mode

The DisplayPort protocol includes the ability to run over a USB-C cable, allowing all of the unique features of DisplayPort to run over the small, ubiquitous USB-C connector.
Multi-Stream Transport (MST)

One of the unique features of DisplayPort is Multi-Stream Transport. It is not offered on any other competing display standard, not even HDMI 2.1. MST allows a single DisplayPort port and cable to carry multiple video streams. You can daisy chain multiple compatible DisplayPort monitors to a single DisplayPort port. Don't have daisy chain compatible monitors? No problem. DisplayPort hubs let you split one DisplayPort port into multiple display connectors - even HDMI.
DisplayPort cable lengths
Like all copper cables, DisplayPort cables can only be so long before the signal deteriorates. The exact DisplayPort length limit depends on the resolution and refresh rate it carries - the more bandwidth being used, the shorter the cable can be. A DisplayPort 1.4 cable can carry a 1080p signal about 15 meters, but a 4K signal has a much shorter 2 meter length limit due to the high bandwidth usage. One way to overcome this limitation is the use of active DisplayPort cables. These cables have an embedded chipset that boosts the signal, preventing signal loss.
DisplayPort vs. USB-C
The USB-C connector gets much of its versatility from the DisplayPort standard. The USB-C specification includes DisplayPort Alt Mode technology, which enables a USB-C cable to tunnel a full DisplayPort signal over the much smaller connector. While the connector might be different, the signal is the same - making USB-C even more versatile than a standard DisplayPort connector. DP Alt Mode powers USB-C to DisplayPort and HDMI adapters, USB-C hubs, and docking stations with single-cable video solutions.

DisplayPort vs HDMI
In the HDMI vs DisplayPort battle, versions matter. Currently, HDMI 2.1 offers more raw bandwidth than the current DisplayPort 1.4 standard - 48Gbps compared to 32.4Gbps over High Bit Rate 3 (HBR3). All that will change with DisplayPort 2.0, which boasts 80Gbps of bandwidth. For all practical purposes, however, the two standards are roughly equal. There are many ways to convert between the two standards, from HDMI to DP Adapters, DisplayPort to HDMI cables, and more. Learn More

Related Products
Related Resources
Can DisplayPort Carry Audio?

If you're unfamiliar with the video connection, you may be wondering if DisplayPort carries audio. Luckily, it does, though not necessarily with the same features as HDMI.

Does DisplayPort 1.4 support 240Hz?

PC gamers are always looking to gain an edge by using the latest and greatest equipment. When it comes to the greatest monitors, gamers may be wondering does DisplayPort 1.4 support 240Hz?

What is DisplayPort 2.0?

HDMI 2.1 redefined display connectivity last year, but the DisplayPort 2.0 standard is set to shake things up even more. What is DisplayPort 2.0? Read on to learn more.

HDMI 2.1 vs. DisplayPort 2.0

DisplayPort 2.0 is poised to become a key player in the video market. Check out the comparison of HDMI 2.1 vs DisplayPort 2.0.